We would like to visualise the structure with the help of a few slides. Structure in this context means 2 things:
a clear texture of the content and
a time line to recognise what we did and what we have to do from now on
The texture of INTENSE becomes visible in the first slide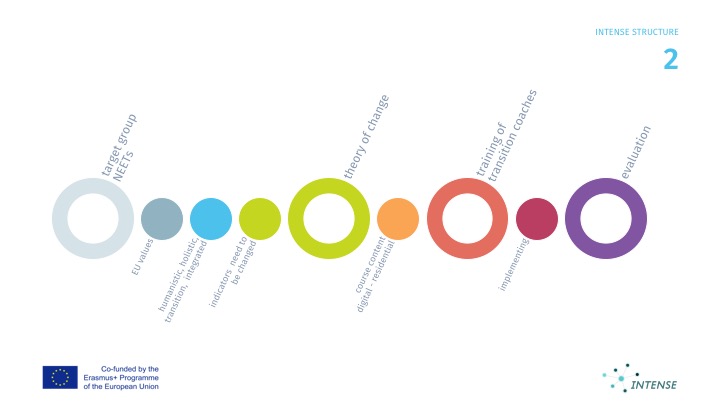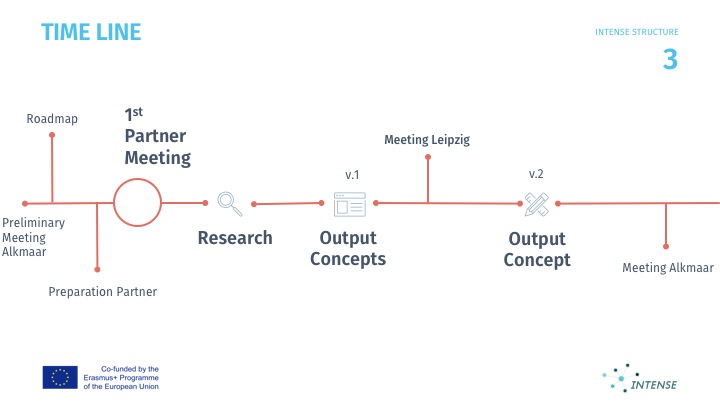 Our initial point to start was the target group
According to EU values we agreed to base on principles of humanism, holism and transition management
We will develop an integrated approach that allows clients growth in relation to the defined indicators:
qualifications
methodical skills
personal skills
social skills
social stability
The requirements of the key figure as well as organisational specifications and mission statements find their expression in the so called
Theory of Change
and its realisation will affect in our 3 dimensions: compensation – prevention – structure
To make a theory practicable we will focus the key figure (transition coach) by choosing methods for the residential training and the preparation as well as the follow-up work in an eLearning environment (LMS)
With the knowledge from his or her professional development plus acquired skills from the course the coach is well skilled
to start the integral assistance for the clients
to sensitize stakeholders, social partners and funding bodies for preventive work and the need of cross sectoral cooperation
to mediate knowledge to other coaches about the core issues and backgrounds of the approach
Our last main issue is revision of the efficiency by using modern evaluation methods.
In the following slides you can see the time line packed with some milestones and task that need to be done.